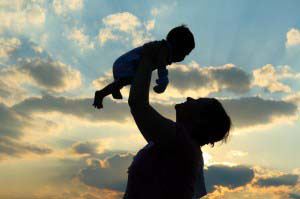 Do you feel like a loser in the gene pool lottery? Do you compare yourself to others and find yourself lacking? Do you  wish you were someone else?
Knowing God designed you helps you  understand the significance you have in His eyes. You are special. You are created in His image.
You are not an accident!
The Bible tells us that He formed each of us individually in our mother's wombs and that we are the work of His hands. What an amazing thought—how deeply we are known by the Creator of the universe! Consider these verses and spend some time quietly pondering your significance in God's eyes.
For you created my inmost being; you knit me together in my mother's womb. I praise you because I am fearfully and wonderfully made; your works are wonderful, I know that full well. My frame was not hidden from you when I was made in the secret place. When I was woven together in the depths of the earth, your eyes saw my unformed body. All the days ordained for me were written in your book before one of them came to be. Psalm 139:13-16, NIV.
Know that the LORD is God. It is he who made us, and we are his; we are his people, the sheep of his pasture. Psalm 100:3, NIV.
You guided my conception and formed me in the womb. You clothed me with skin and flesh, and you knit my bones and sinews together. You gave me life and showed me your unfailing love. My life was preserved by your care.
Job 10:10-12, NLT.
The Spirit of God has made me; the breath of the Almighty gives me life.
Job 33:4, NIV.
So God created man in his own image, in the image of God he created him; male and female he created them. Genesis 1:27, NIV.
From my birth I have relied on you; you brought me forth from my mother's womb. I will ever praise you." Psalm 71:6, NIV.
"Before I formed you in the womb I knew you. . ." Jeremiah 1:5, NIV.
Yet you brought me out of the womb; you made me trust in you even at my mother's breast. Psalm 22:9, NIV.
Did not he who made me in the womb make them? Did not the same one form us both within our mothers? Job 31:15, NIV.
From birth I was cast upon you; from my mother's womb you have been my God. Psalm 22:10, NIV.