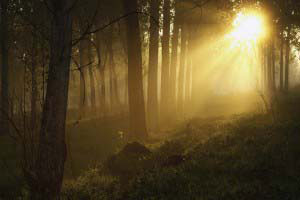 We all want the best in life. The decisions we make are intended to result in the good things we desire. But all too often, with the passing of time, we discover a future that reveals the hidden fallacies of our choices.
Many times we live as though we believe that anything good we experience will be the result of our own efforts. But God wants us to rely on Him and to realize that He is the source of all good blessings that come into our life.
"Every good and perfect gift is from above, coming down from the Father of the heavenly lights, who does not change like shifting shadows." (James 1:17, NIV)
God wants the best for you and He wants you to trust Him for it. He has it all figured out. He has a glorious future planned for you. But it requires that you turn over control of your life to Him. He wants you to trust Him with everything. He wants you to have complete faith in Him.
"What is faith? It is the confident assurance that what we hope for is going to happen. It is the evidence of things we cannot yet see." (Hebrews 11:1, NLT).
Do you have faith in God? Do you trust Him? Trust is developed by cultivating your relationship with God. It requires knowledge and understanding of God's capabilities and reliability.
The kind of faith God wants you to have in Him doesn't happen overnight. It is developed over time as you discover His magnificent attributes and watch Him orchestrate the events of your life. Your trust in God will grow as you walk with Him every day and discover the depth of His incredible love for you. Then, as you get to know Him better your beliefs will be grounded in biblical reality.
Do you believe God knows what's best for you?
God created you. He fashioned every fiber of your being. He understands you better than you could ever hope to understand yourself. He knows every detail of your past and has a clear view of your future.
God can see the consequences of decisions made today, even years into the future. We, on the other hand, are anchored in the present moment. As a result, our choices are based on limited insight and are influenced by what we believe will bring immediate happiness. We assume that what makes us happy today will certainly be good for us tomorrow. Unfortunately that is not always the case.
"The LORD says, 'I will guide you along the best pathway for your life. I will advise you and watch over you.'" (Psalm 32:8, NLT).
God sees the big picture of your life. He understands what is best for you much more clearly than you ever will or can. Trust Him to guide you with your decisions for what's best for you.
Best is revealed through patience and perseverance, but it is always worth the wait.
Do you believe God is totally committed to your well-being?
God is love. He is faithful and kind. His grace is evident in all that He has done for us.
God, in the person of Jesus Christ, was willing to endure unimaginable torment as He died on a cross for our sins because of His love for us. If He was willing to do that for us at a time when we were His enemies, how can we possibly question His commitment to us now that we are His children?
"For I know the plans I have for you," declares the LORD, "plans to prosper you and not to harm you, plans to give you hope and a future." Jeremiah 29:11, NIV.
God is unconditionally committed to guiding your steps down a path custom designed for your eternal fulfillment. That may be difficult to accept if that path currently has you walking through a deep valley. But trust Him. Eventually you will find yourself on a mountaintop looking back and realizing that current blessings would never have been possible apart from the journey through the valley below.
Remember, God's best gifts aren't always wrapped in the prettiest packages. God is more committed to our spiritual growth, development and maturity than He is to our immediate happiness.
Do you believe God is absolutely trustworthy to keep His word?
God is truth. What He says, is reality, regardless the circumstances or our feelings. It is the evil one who raises doubts and distorts God's words. It is only as we focus on God's impeccable character that we gain the hope and confidence we need to believe the promises He has given us.
"Without wavering, let us hold tightly to the hope we say we have, for God can be trusted to keep His promise." (Hebrews 10:23, NLT).
What God promises will definitely happen. However He is not bound by our timetable. God will do what He says when the time is right. Until that time, He expects us to wait with hopeful anticipation of the blessing to come.
Do you believe God is able to change your situation in an instant?
All too often, we are guilty of extrapolating our future based on what we see in our present situation. And yet we have all experienced fateful moments when, through some unexpected event, our life was altered forever.
God is the Engineer of our circumstances. He guides us through the routines of life until the time is right to interject the unexpected.
Right now He is at work in the lives of other people on your behalf. He is orchestrating their circumstances, influencing their attitudes and guiding their actions. Then, at precisely the right moment, your lives will intersect and He will reveal His handiwork. And when He does, you will be gasping with amazement as you see what He has once again done on your behalf.
"Now to Him who is able to do exceedingly abundantly above all that we ask or think, according to the power that works in us," (Ephesians 3:20, NKJV).
Trust God more and rely on self-effort less. He is able. He is willing. He is trustworthy.
Spend time with Him every day so your trust in Him will grow. Then, by faith, you will experience the best that He has in store for you.
Related Articles

>> God Loves You
>> God Offers You the Best
>> Become Intimate with God

by Barb Pell

What messes up most of our lives is the picture we have in our heads of how our lives are supposed to be. The way I see it, you and I have a choice in how we view that ideal life. You can choose to focus on the search for this ideal man and be on an incessant lookout for who you think will complete you. Or your other choice is to use that energy to discover the person you are, so when you do find him, you'll have a whole, wonderful heart and life to offer him. And if you don't, you've made a pretty wonderful life on your own. (read more)

by Gabrielle Pickle

There it was glaring out from the computer screen. The words I never thought I would see. I had been so confident in how God had directed me. For a moment I could not breathe. "We regret to inform you that…" I couldn't read the rest of the email. The tears suddenly gushing down my face had obscured my vision. The email shattered my dreams. My heart, that desired so badly to serve God in this particular way, crumbled into pieces. I could not understand how this had happened. (read more)

Recently I've been having these reoccurring thoughts about being in a relationship. As we walk through this time of singleness, we often question if God even sees us, and some of us take issue with His sovereign plan.

While dreaming of our future spouse is not inherently a bad thing, it begs the question: Are we in love with God or are we in love with what God can give us? (read more)

by Dr. Dale A. Robbins

Fellowship comes from the Greek word, KOINONIA, which means "to share in common." Christian fellowship is more than attending Church — it is "assimilating" into the body of believers, becoming "one" in worshipping, loving, caring and sharing.

According to the scripture, fellowship is not an optional matter for believers. It says, "if walk in the light [in fellowship with God]… this causes us to have fellowship with one another." And from the outcome of this fellowship, "the blood of Jesus, His Son, cleanses us from all sin" (1 John 1:7). (read more)


If you are supposed to guard your heart in dating, how do you do it? There are only two verses in the Bible that use the phrase "guard your heart." One of these verses gives us the answer to the question of how to guard your heart in life in general and in dating in particular. (read more)

by Sylvia Gunter

Nothing tries our faith like waiting on God for answers to prayer. Waiting tests our submission to Him as our trustworthy Authority. Waiting is not necessarily resignation from all activity; it is submission to God's better idea. (read more)

by Oswald Chambers

The greatest enemy of the life of faith in God is not sin, but good choices which are not quite good enough. The good is always the enemy of the best. (read more)

Before we can learn to trust that God is in control of all of life's circumstances, we have to answer four questions: Is God really in control? How much control does He have? If He is not in complete control, then who/what is? How can I learn to trust that He is in control and rest in that? (read more)

by John MacArthur

I would suggest to you and with no fear of contradiction that the most miserable people in the world are not single. It's true. The most miserable people in the world are married. That does not mean that all married people are miserable, I'm not. I'm thrilled, I'm happy. But I'll tell you, the potential for misery in marriage is greater than the potential for misery being single because when you're single there's only one person who can make you miserable. And as I've said before, the only thing worse than wishing you were married is wishing you weren't. (read more)

by Fern Horst

Why do we so often feel as though God has somehow backed down on His Word or overlooked us with His blessings? Much of our emotional pain concerning our singleness is a result of believing that God has withheld the fulfillment of certain needs and desires in our lives which we believe could be fulfilled through marriage. (read more)

by Fern Horst

My five-year-old niece and I were having a heart-to-heart talk — one she had initiated about women having babies. When I asked her if she thought I should get married and have a baby she looked back at me with a why-would-you-do-that look. Her answer was clear: "No! You're an auntie. You can't do everything!"

On the way to adulthood we often lose sight of this five-year-old wisdom and we think that someday we can have it all. (read more)

by Kammy L. Willis

Family and friends assured me that God must be planning "someone special" for me. What other reason would He have for keeping me single for so long? Years passed and the assurances began to inflict more pain than comfort. I pleaded and bargained with God. However, the continued loneliness magnified my doubts until I felt that God cared about everyone's problems but mine. Eventually, I issued a challenge to God. Could He really make someone special enough to be worth the years of loneliness I had endured? (read more)

Whether never-married, widowed or divorced, long-term singleness often comes as a surprise. Because few people expect to remain single or become single, it may take some time before many singles realize that they need to come to terms with their unmarried state. But just as anything we need to come to terms with, the sooner we start the process, the better.

I'd like to introduce you to three characters; though fictitious, they are quite representative of many Christian singles. (read more)

by April Motl

I wonder how many of us out there have prayed for something and felt as if God was silent. I wonder how many of us have prayed until we felt that surely our constant request had become an annoying clamoring in God's ears… because certainly we were exhausted with hearing this same prayer from our own lips and it felt like everyone around us was tired of hearing the same prayer too. But yet, the need continued to compel us to cry out for our Lord's help. (read more)