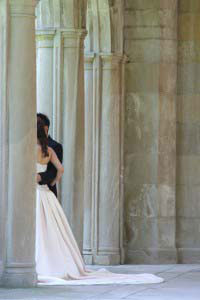 Do you understand God's plan for marriage?
When God selects a soul mate for someone, they are selected to fulfill His purposes. If a person doesn't have the right view of marriage, how can they recognize the mate best suited for them?
Do you believe that marriage is about meeting your needs and filling your life with happiness? But what if those are only the byproducts, which result from fulfilling God's primary purposes within that marriage?
How can you have a successful marriage, if you don't understand God's objectives and follow His rules?
by Matt Smethurst

We've witnessed many singles fervently serve God until their marriage day, at which point one of two things happens: (1) they enjoy each other so much that they spend almost all their free time entertaining each other rather than serving God; or (2) they struggle in their relationship and spend their days arguing, going to counseling, and feeling disqualified from serving God. In either case, the couple no longer spend their time furthering the kingdom, but instead fixate on each other. (read more)
Any Christian who is considering marriage needs to realize the depth of this kind of commitment and not jump into it lightly. God intends marriage to be a lifelong commitment, not a temporary arrangement.

The Bible says this about marriage: "'This explains why a man leaves his father and mother and is joined to his wife, and the two are united into one.' Since they are no longer two but one, let no one separate them, for God has joined them together" (Mark 10:7-9, NLT). (read more)
by John Piper

Preparing well for marriage means asking each other all the hard questions.

Getting to know that special someone includes learning about family and friends and schooling and athletics, favorite pastimes, books, movies, life's best moments and worst, the brightest places in our background and the darkest.

But what about theology? Ever think to ask about that?

This free e-book by John Piper has just four chapters which cover:

Chapter 1 – Questions for couples preparing for marriage

Chapter 2 – What is marriage and what did God design it for?

Chapter 3 – Sexual relations in marriage

Chapter 4 – Mission together in marriage
I firmly believe the spiritual dimension in marriage is indispensable. It has the power to change lives and homes, especially when both husband and wife share similar spiritual beliefs and practices.

It's not by mistake that when Paul wrote about selecting a prospective spouse, the one thing he chose to focus on was the spiritual connection. Paul clearly said that a follower of Christ must marry another follower of Christ. As he described it, the other person "must belong to the Lord" (1 Corinthians 7:39). (read more)
by Mary Kassian

What are some common misconceptions about what it means to be a "submissive" wife? Does it mean that the wife is to be a doormat that has no say in a marriage? Does it mean that all women are to be submissive to all men? Does it give a man permission to be a tyrant in his marriage? This article is instructive for both men and women on how a biblical marriage is to work. A strong understanding of the concept of submission is great preparation for your future marriage. (read more)
by Jim Burns, Ph.D.

Christians are called to stand on the side of righteousness even when it's unpopular. When considering the pursuit of happiness in marriage, the difference between marrying a believing spouse and marrying a unbelieving spouse can make a huge difference. (read more)
The goal of most Christian single women is to be married. However, that does not mean you should wait until you're engaged to start preparing to be a wife. Married women told me this for years before I began to heed the advice. However, once I realized God prepares us to receive blessings I realized I needed to prepare to receive the blessing of my husband. (read more)
To God, marriage is sacred — there's no doubt about it — not from God's vantage point! Because we enter into a covenant relationship with God and our spouse when we marry, we should consider marriage to be sacred and take it as seriously as God does! (read more)
A soulmate connection is a phrase that sometimes defines emotional intimacy. It describes a deep bond between a husband and wife. Whether this is developed or made in Heaven, there are four main characteristics of emotional intimacy. (read more)
Whether you've ever been married or not, you may be wondering if marriage will exist in heaven. What does the Bible say? In Matthew 22:23-28, Jesus was asked a question concerning a woman who had been married and widowed multiple times in her life: To which of these men would she be married in heaven? (read more)
by Phil Smidt

Webster defines compatibility as "the capability to live together in harmony." Our culture highly values compatibility in marriage, but the common belief is you must meet the right person in order to attain this. If you find "the one," harmony will naturally ensue. (read more)
by Henry Brandt

Ephesians 5:18-25 talks about the ingredients and personality factors that you need to bring to the marriage, "Be filled with the Spirit." Being filled with the Spirit means depending on God to make you the person you need to be in the relationship. (read more)
by Henry Brandt

The secret of getting along in marriage lies in two people applying the principle embodied in this verse from the Bible: "And just as you want men to do to you, you also do to them likewise" (Luke 6:31).

This is a workable formula! And amazingly, it is easier to carry out than to trying to figure out the other person. (read more)
by Henry Brandt

Sometimes it seems as though a long-lasting marriage is determined by chance or circumstances or just plain old luck. However, there are some steps that will enable you to establish your marriage on a solid foundation that will help you stay in it for the long haul. (read more)
by Henry Brandt

"Wives, submit to your own husbands as to the Lord." (Ephesians 5:22)

There it is. One of the most fiercely debated Bible verses concerning marriage. "Why should the wife do all the submitting?" That is the hot question. But here is the greater truth, the wife is not the one who needs to do all the submitting … this verse does not stand alone. (read more)
by Dennis Rainey
Understanding God's design gives your marriage a sense of direction and stability. (read more)
Understanding God's purpose for marriage is of the utmost importance, because to marry and miss it is to enter into a life full of frustration and disappointment — setting the stage for great marital unrest. Most of us tend to marry with very romanticized ideas of what marriage is going to be. With great excitement we anticipate the relationship that will finally meet our romantic and emotional needs. God's primary intention for marriage however, is not what most of us imagine it to be. (read more)
Marriage finds it's meaning in our Infinite reference point, God. Otherwise, we argue without resolve on such issues as who has the "right to marry" and what are the grounds for dissolving a marriage. (read more)
by Focus on the Family
Maybe you've heard that a woman needs to be loved by her husband and a man needs to be respected by his wife. However, if you're like the average man or woman, you're thinking, "Sure, that all sounds great, but what does it mean?"
(read more)